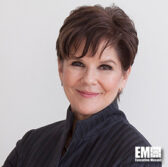 General Dynamics CEO Phebe Novakovic has said the company is on schedule to complete design and development work on the U.S. Navy"™s Columbia-class ballistic missile submarine, the Washington Business Journal reported Wednesday.
Novakovic said Wednesday at the Jefferies 2017 Industrials Conference in New York City the Falls Church, Virginia-based defense contractor expects to record $75 billion in revenue over the submarine program"™s lifespan.
General Dynamics"™ Electric Boat subsidiary won a potential five-year, $1.85 billion contract in 2012 to design and develop the submarine under the Ohio Replacement program.
"We are in the process of negotiating the final tranche of the design and development work," said Novakovic, an inductee into Executive Mosaic"™s Wash100 for 2017.
"Our job is to ensure that we have a design that is affordable for the Navy and that is producible by us, so that we move into production we can execute."
The company expects to begin construction work in 2021 on the 560-foot-long Columbia-class submarine that will feature 16 tubes designed to carry Trident nuclear missiles.