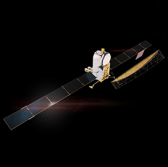 Northrop Grumman's Astro Aerospace subsidiary has conducted a preliminary design review of L-band reflectors for two communications satellites that Airbus currently develops for Inmarsat.
Astro Aerospace will work to mature the reflectors' design before the Inmarsat-6 satellite program undergoes a critical design review later this year, Northrop said Wednesday.
Inmarsat awarded Airbus' defense and space business a potential $600 million contract in 2015 to build the first two satellites of the Inmarsat-6 constellation, which will deliver Ka- and L-band mobile communications services.
John Alvarez, general manager of Astro Aerospace, said the unit's AstroMesh deployable mesh reflectors are designed to support Inmarsat-6's mission to deliver L-band services.