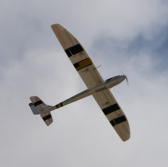 Microsoft, the Nevada Governor's Office of Economic Development and the Nevada Institute for Autonomous Systems have performed simple and complex flight tests on a sailplane equipped with artificial intelligence technology.
NIAS said Wednesday the team evaluated the Microsoft-built sailplane at the Hawthorne Advanced Drone Multiplex Test Range in Nevada.
"Microsoft researchers have created a system that uses artificial intelligence to keep the sailplane in the air without using a motor, by autonomously finding and catching rides on naturally occurring thermals, like how wild birds stay aloft," said Ashish Kapoor, principal researcher at Microsoft.
NIAS noted the 12-and-a-half-pound sailplane uses a built-in battery to power onboard computational equipment including the rudder and radios designed to support ground communications.
The AI technology integrated into the Microsoft sailplane helped operate, locate and utilize thermals to autonomously fly the aircraft during the test flight.
Chris Walach, director of the Nevada UAS Test Site, said he believes the development and testing of AI and machine learning technologies will have multiple uses for industry and people in the U.S.