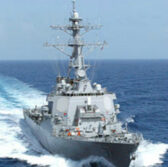 The U.S. Navy has begun to solicit proposals for a contract to transport the damaged USS Fitzgerald guided-missile destroyer back to U.S., United Press International reported Wednesday.
The service branch is currently investigating the collision of USS Fitzgerald with a Philippine-flagged container ship off the coast of Honshu, Japan, in June.
The Navy posted a solicitation notice on FedBizOpps that will be open for responses until Aug. 11.
Peter Daly, CEO of the U.S. Naval Institute, told UPI that an effort to retrieve a damaged ship "is a very complex task because you've got to make sure the ship is ready to go, and then you have to decide which method, which mode you're going to use for it."
Daly added that the shipyard where the Arleigh Burke-class destroyer was built has an edge in the acquisition process.
USS Fitzgerald was constructed by General Dynamics' Bath Iron Works subsidiary.