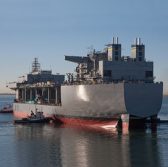 General Dynamics' NASSCO subsidiary and the U.S. Navy have launched USNS Hershel 'Woody' Williams, an expeditionary sea base vessel built to support special operations force and airborne mine countermeasure missions.
ESB 4 will undergo a series of at-sea tests before the company delivers the ship to the service branch in early 2018, the Navy said Tuesday.
The ship is named after a U.S. Marine Corps veteran known for having served in the Battle of Iwo Jima.
"We'll begin powering many of the ships engines and systems as early as next month as we prepare to get underway for sea trials in the coming months," said Capt. Scot Searles, manager of the Navy's Strategic Sealift and Theater Sealift program.
NASSCO also started fabrication of ESB 5 in January and expects to lay the keel for the next expeditionary sea base by September.