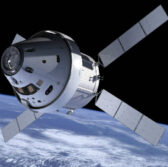 NASA has asked industry to submit concept studies on solar electric propulsion vehicle platforms designed to support future deep space exploration missions.
A draft broad agency announcement posted Friday on FedBizOpps says the agency seeks study proposals to support the development of concepts and approaches related to the power and propulsion element under the Next Space Technologies for Exploration Partnerships program, NASA said Saturday.
PPE is the initial planned element under the deep space gateway concept and is designed to launch as a payload with the Orion spacecraft aboard the Space Launch System as part of the first human spaceflight mission.
NASA seeks studies that address operational interfaces and approaches with robotic and crew vehicles as well as propulsive maneuvers around the moon.
The agency will accept questions on the draft BAA through Aug. 22 and study proposals through Sept. 26.
NASA will also conduct an industry forum on Thursday at 1:00 p.m. Eastern time to discuss the request for concept studies in preparation for the final solicitation to be released later this month.