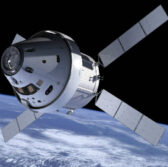 NASA and Lockheed Martin have powered up the company-built Orion crew module at the space agency's Kennedy Space Center in Florida for the first time.
Engineers installed and tested vehicle management computers, power and data units and flight software on the spacecraft as part of the initial power-up event, Lockheed said Tuesday.
"Orion was designed from the beginning to take humanity farther into space than we've ever gone, and to do this, its systems have to be very robust and reliable," said Mike Hawes, a vice president and Orion program manager at Lockheed.
Hawes added that everyone on the team acknowledges the spacecraft's significance to the future of human space flight.
The team is scheduled to integrate 55 components that will make up the avionics suite of Orion, connect those parts with approximately 400 harnesses and conduct functional tests in the next two to three months.
NASA aims to send Orion with the Space Launch System more than 40,000 miles beyond the moon as part of the unmanned Exploration Mission-1 that could last for three weeks.
Lockheed is responsible for spacecraft design, construction, test, launch processing and mission operations as the program's prime contractor.