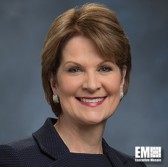 Marillyn Hewson, chairman, president and CEO of Lockheed Martin, has said the company welcomes President Donald Trump's memorandum that seeks to examine if China's trade policies lead to the theft of intellectual property from U.S. businesses.
Hewson, an inductee into Executive Mosaic's Wash100 for 2017, said in a statement published Monday on the White House website the illegal transfer of U.S. defense IP is a key "national security concern and threatens to undermine the competitiveness of U.S. industry."
The presidential memo calls on the U.S. Trade Representative to study claims that China's trade practices result to the theft of U.S. technology know-how and the transfer of American companies' technologies to Chinese firms.
USTR will determine whether to open a formal investigation and identify appropriate actions if necessary.