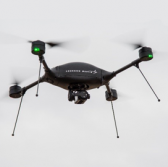 Lockheed Martin and MyDefence Communication have agreed pair a quadrotor unmanned aerial system with a counter-UAS platform under a collaborative development agreement between the two companies.
Both companies aim to offer rapid response aerial surveillance services through the combination of Indago and KNOX platforms, MyDefence Communication said.
The resulting technology will look to help users detect potential threats as well as record evidence that can support the prosecution of adversaries.
"Over the past year, we have noticed a growing need among our customers not only to detect and neutralize a drone, but also to find and prosecute the drone pilot," said Christian Steino, MyDefence Communication CEO.
Steino added the company seeks to help Indago users identify unauthorized UAS operations with the KNOX technology.