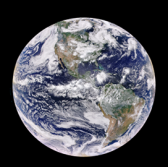 Lockheed Martin will build a space instrument that will work to collect data on the planet's vegetation health and carbon cycle as part of the Geostationary Carbon Cycle Observatory mission.
Lockheed said Tuesday it expects the GeoCARB instrument to launch aboard a commercial geostationary orbit satellite as a payload by 2022 to measure carbon dioxide, methane, carbon dioxide and Solar Induced Fluorescence in the Earth's atmosphere through analysis of infrared wavelengths.
Gary Kushner, instrument program manager at Lockheed, said the company will develop the instrument through its Palo Alto, California-based technology center in collaboration with NASA, University of Oklahoma and Colorado State University.
Kushner added that Lockheed will leverage its experience in hosted payloads and infrared sensing to build the GeoCARB instrument.
Berrien Moore of the University of Oklahoma will serve as the principal investigator on the GeoCARB project under a potential $161 million contract that NASA awarded in June.