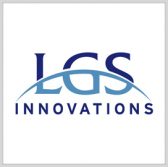 LGS Innovations has received a four-year, $7.5 million contract from the Defense Advanced Research Projects Agency to create decision-making algorithms for computing resource allocation.
The company said Wednesday it aims to develop algorithms and protocols that will work to simultaneously connect, identify and allocate dispersed computing assets under the first phase of DARPA's Dispersed Computing program.
Kevin Kelly, CEO of LGS Innovations, said he believes the research program has the potential to provide a significant information advantage for the warfighters.
"The possible applications for a fully developed dispersed computing approach are readily evident," Kelly added.
The DCOMP program seeks to reduce the latency and bandwidth consumption of networks as well as update network protocols that direct internet architecture.
LGS will collaborate with BAE Systems' U.S. arm and Princeton University on the project.
Raytheon"˜s BBN Technologies subsidiary and Vencore"™s research business also received contracts from DARPA to support the DCOMP program.