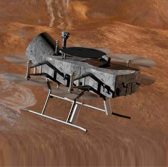 Johns Hopkins University Applied Physics Laboratory has proposed the concept of radioisotope-powered dual-quadcopter technology for a NASA mission that aims to explore potential habitable sites on Saturn's largest moon.
APL said Wednesday it envisions the Dragonfly technology utilizing Titan's dense atmosphere to migrate from one geologic setting to another as the quadcopter evaluates the moon for livable environments.
The quadcopter would also measure the mass spectrometry, gamma-ray spectrometry, atmospheric conditions, geologic and physical nature of Titan's surface and atmosphere, the laboratory added.
"Dragonfly is designed to study the results of Titan's experiments in prebiotic chemistry," said Elizabeth Turtle, principal investigator for the Dragonfly mission at APL.
APL also intends for the platform to employ multiple science instruments to collect samples of Titan's atmosphere and surface to assess the habitability of the moon as well as search for potential signs of water- and hydrocarbon-based life.