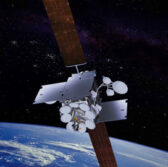 Inmarsat has completed a flight test to demonstrate the capability of its Global Xpress satellite network to deliver high-speed communications coverage to users aboard a Gulfstream IV aircraft.
Global Xpress worked to deliver data, voice, internet access, video teleconferencing, application streaming and file transfer support services to the aircraft through the Honeywell-built tail mount antenna during the Around the World test flight conducted from June 5 to June 11, Inmarsat said Wednesday.
During the weeklong exercise, the network delivered global connectivity to Gulfstream IV as the aircraft navigated across 28 spots beams with handovers during its flight that started in the U.S. and continued across the U.K., United Arab Emirates, Thailand, Australia and Fiji.
Steve Gizinski, vice president of special programs at Inmarsat"™s U.S. government business unit, said the test flight sought to demonstrate the company"™s capability to provide wideband connectivity to aerospace users.
Global Xpress is a commercial Ka-band satcom platform that works to provide broadband coverage through four geostationary Inmarsat-5 satellites and is offered by Inmarsat as a subscription-based managed satcom-as-a-service offering.