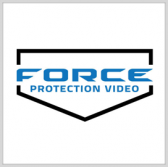 Force Protection Video Equipment has received a follow-on order from the Department of Homeland Security to supply additional cameras along with VeriPic-made enterprise photo and evidence management software.
The order is for 160 LE50 high-definition body camera systems that work to record audio and video for up to 10 hours at 1080p video mode and 12 hours at 720p video mode, Force Protection Video said Tuesday.
LE50 is designed to have a battery life of up to 50 hours on standby, 32 gigabytes of internal storage, audio announcements and global positioning system recording features.
Force Protection Video Equipment will also supply LE50 cameras to the U.S. Forest Service under a contract awarded in August 2016.