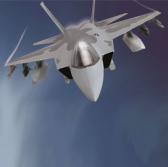 Korean Aerospace Industries has awarded Cobham a $9 million contract to supply an undisclosed quantity of Missile Eject Launcher units for integration onto South Korea's future KF-X multirole fighter aircraft.
Cobham said Tuesday it aims to deliver the weapons carriage and release equipment to KAI by 2020.
Ken Kota, senior vice president and general manager of Cobham's mission systems business, said the company designed its ejection system to release a Meteor missile or an Advanced Medium-Range Air-to-Air Missile.
KF-X will be built to replace F-4 and F-5 jets of the South Korean air force and the aircraft is scheduled to enter service in 2025.