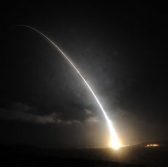 Frank McCall, head of strategic deterrence at Boeing, has said the development of a new intercontinental ballistic missile would be cheaper than another service life extension effort on the Boeing-built Minuteman III ICBM, Breaking Defense reported Wednesday.
McCall told reporters that the U.S. Air Force's future ICBM dubbed Ground-Based Strategic Deterrent would provide better performance and support a wider range of scenarios than Minuteman.
Boeing is competing against Lockheed Martin and Northrop Grumman for the GBSD program that is expected to cost more than $85 billion.
GBSD will feature an open architecture design to better accommodate maintenance and upgrades and will be built to last through the 2070s, the report said.
Minuteman was developed in 1958 for a 10-year service life and has since been updated with various technologies.