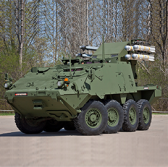 Boeing and a General Dynamics subsidiary have introduced a short-range air defense platform mounted on a reconfigured Stryker armored vehicle at the Space & Missile Defense Symposium in Alabama, Defense News reported Wednesday.
General Dynamics Land Systems and Boeing also intend to demonstrate the Manuever SHORAD Launcher Stryker system at a U.S. Army-hosted shoot-off in September at White Sands Missile Range in New Mexico.
The MSL Stryker consists of an upgraded Avenger air defense platform designed to fire various missiles and directed energy weapons and can be fitted out with a 30mm gun.
The companies developed the MSL Stryker after the service branch determined a gap in SHORAD capabilities in Europe in 2016.
The Army will field an Avenger unit in Europe by February 2018 as part of an armored brigade combat team's nine-month rotation, the report added.