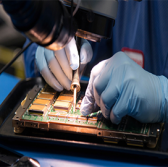 BAE Systems has introduced a single-board computer technology designed to support computing processes on board spacecraft and satellites.
The company said Wednesday it developed the RAD5545TM computer to aid space missions such as weather monitoring, planetary exploration, communications, surveillance, tracking and national security.
RAD5545TM components are designed to resist potential damage or malfunction caused by radiation exposure in space.
The company manufactures the computer at a Defense Department-approved facility in Manassas, Virginia, and intends for the technology to help address customer requirements for spacecraft encryption processing, multiple operating systems, high-resolution image processing, autonomous operation and multiple payload support.
BAE said it has supplied more than 900 computer systems used on more than 300 satellites.