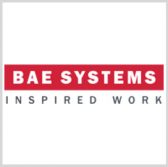 BAE Systems' land and armaments business has received a potential $16.8 million contract from the U.S. Navy to produce two MK 110 Mod 0 gun mounts along with associated hardware.
The Defense Department said Monday each gun mount will include a 57mm medium caliber gun; a barrel-mounted television camera; an ammunition hoist; a muzzle velocity radar; and power distribution and ruggedized laptop computer gun control panels.
BAE will help install the MK 110 Mod 0 systems on U.S. Coast Guard cutters.
The 57mm Mk 110 naval gun system is designed to engage medium- and short-range surface targets as well as offer warning and disabling fire support for anti-surface warfare operations.
The Navy obligated the full contract amount from its fiscal 2017 weapons procurement funds at the time of award.
Work under the firm-fixed-price contract will occur at a company facility in Louisville, Kentucky, through November 2019.