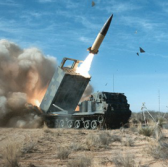 Lockheed Martin has shipped the first Army Tactical Missile System from a manufacturing facility in Camden, Arkansas, to the U.S. Army as part of a contract to produce ATACMS weapons for the service branch and a foreign military customer.
Lockheed said Thursday the missile was built at the company's Precision Fires Production Center of Excellence where the ATACMS program is currently in full-rate production.
The Army awarded Lockheed a $174 million contract in 2015 to supply 124 tactical missile rounds to the military branch and the United Arab Emirates under a foreign military sales deal.
The company is also close to finalizing a development contract with the service branch to upgrade ATACMS electronics and validate a sensor designed to boost the missile system's impact on targets.
ATACMS is a long-range, surface-to-surface weapon system that supports deployment from the family of Multiple Launch Rocket System launchers.