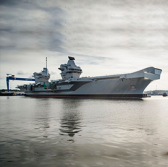 A U.K. aircraft carrier built by a BAE Systems–Babcock–Thales Group alliance has arrived at its homeport in Portsmouth, England for the first time.
The British defense ministry said Wednesday sailors and a flypast from the Fleet Air Arm welcomed the Aircraft Carrier Alliance-built HMS Queen Elizabeth ship that will support F-35 trial flights beginning next year.
"When she enters service she will help keep Britain safe at a time of increased threats, able to fill multiple roles from providing air power anywhere at any time to fight future campaigns, supporting allies or delivering humanitarian aid," said U.K. Defense Secretary Michael Fallon.
BAE served as the lead member of the Aircraft Carrier Alliance and helped produce HMS Queen Elizabeth hulls and island structures at facilities in Glasgow and Portsmouth.
The 919-foot, 71,650-ton carrier is designed to travel at a speed of more than 25 knots.