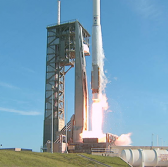 Aerojet Rocketdyne supplied the propulsion systems for United Launch Alliance's Atlas V rocket that launched a Boeing-built communications satellite Friday to join NASA's Space Network.
The Tracking and Data Relay Satellite blasted off from Cape Canaveral Air Force Station in Florida atop Atlas V equipped with six helium pressurization tanks, an RL10C-1 upper-stage engine and 12 Centaur reaction control system thrusters, Aerojet Rocketdyne said Friday.
TDRS-M also carries an Aerojet Rocketdyne-made R-4D bipropellant engine designed to help guide the satellite towards geosynchronous orbit.
"The Space Network is vital for scientists, engineers and control room staff to access data from Earth-orbiting satellites, most notably the International Space Station and the Hubble Space Telescope," said Eileen Drake, Aerojet Rocketdyne president and CEO.
NASA's Space Network is a constellation of geosynchronous satellites built to transmit data to and from ground stations on Earth in support of the agency's missions and other satellites currently in orbit.