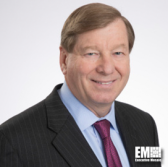 Wayne Rehberger, chief financial officer of Engility Holdings, has said the company's decision to acquire professional services provider TASC in 2014 through a $1.3 billion stock deal was driven by the latter's intelligence business, Virginia Business reported Friday.
Rehberger said TASC's intelligence business "helped balance Engility's strategic portfolio."
He was instrumental in the 2015 integration of both Chantilly, Virginia-based companies in order to form a combined entity with approximately $2.1 billion in 2016 revenue and at least 9,100 employees.
Rehberger said the merger involved combining the companies' process, system and cultural differences.
"You have to meld them into a new business paradigm going forward," he added.
Rehberger, formerly senior vice president and CFO at TASC, assumed the CFO role at Engility in 2015 following the completion of the merger.
The U.S. Army veteran joined TASC in 2010 after he served as chief operating officer for six years at XO Communications and previously held finance and operations roles at MCI Communications and KPMG.