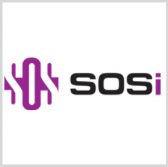 SOS International has secured a five-year, $9 million contract from the U.S. Army to support the military branch's public affairs office at Resolute Support headquarters in Afghanistan.
SOSi said Wednesday it will help the Army deputy chief of staff communications and PAO personnel disseminate information to local, regional and international media as well as counter the spread of misinformation.
The company has supported RS Headquarters over the past eight years and helped the service branch create strategic communication, public affairs and media monitory strategies.
SOSi uses its EV3 multilingual media monitoring and analysis tool to offer real-time data monitoring and analysis services for DCOS COMM in support of the RS mission.
EV3 is designed to extract and analyze narratives, classify texts through deep learning models, extract quotes disambiguate entities via a desktop or a mobile device.