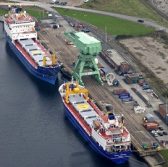 Serco has received a contract extension from the International Nuclear Services, a division under the U.K. nuclear decommissioning authority, to provide continued management services for the INS fleet of nuclear cargo vessels.
The four-year contract extension exercises options from a previously awarded contract which covers operations and management services for vessels of the INS, NDA and Pacific Nuclear Transport Ltd, Serco said Friday.
"We are delighted to have been awarded this contract extension and to have been entrusted by INS to support their ships and seafarers as they carry out their duties around the globe," said Paul McCarter, managing director of Serco's defense business.
Maritime Services, a unit under Serco's defense business, will manage and operate the contract that also covers support services for 192 seafarers including PNTL-employed personnel.
INS is the majority shareholder of Barrow-in-Furness-based maritime transportation company Pacific Nuclear Transport Ltd.