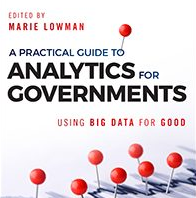 From public health to transportation, the new release from SAS titled "A Practical Guide to Analytics for Governments: Using Big Data for Good" is a solid indicator of how analytics is already modifying the way government works.
This substantial piece of literature features contributors ranging from doctors to criminal justice experts, sharing their strategies, techniques and real-world experience in how leaders can make better decisions through analytics.
"Nowhere can more good be done, for more people, than in government," said Paula Henderson, who leads the SAS US Government Practice. "We all hear about analytics and 'big data,' but not everyone truly understands it. This book makes the application of data and analytics tangible, and builds excitement about the possibilities."
The book, priced at $50, describes how big data and analytics can help with:
Social services, in assisting youth and families by identifying at-risk children, and addressing internal concerns (i.e. high turnover, caseworker safety)
Public health and customized care, in attacking substance abuse head-on
City leaders, in the transition from municipality to "smart city" by choosing the right projects with the right long-term plan
Public leaders, in crafting a step-by-step plan to institute a center for government data analytics to serve as a cost-effective platform for data-driven solutions
"This book is full of examples of typical problems and potential solutions that provide insight into how analytics can work in government," said Eric Reese, Senior Implementation Advisor for the Center for Government Excellence at Johns Hopkins University. "Practitioners from a variety of backgrounds and sectors will benefit from the compelling stories and practical guidance to get government analytics projects off the ground."
Advances in understanding how big data works, analytics and their functions, machine learning, and other technologies give you–the reader, leader and public service professional–the power to build better governance.
The truth is out there: A Practical Guide to Analytics for Governments will show you the way.