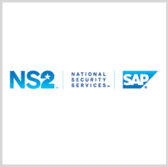 SAP National Security Services has received Federal Risk and Authorization Management Program certification to offer a set of cloud-based human capital management platforms to federal agencies.
The SAP NS2 Secure Node with SAP SuccessFactors HCM Suite – DoD is a set of software-as-a-service-based talent management, learning management, workforce analytics and talent acquisition tools, the company said Thursday.
Carmen Krueger, general manager of cloud at SAP NS2, said the FedRAMP authorization would help the company provide the Defense Department with a SaaS platform designed to help agencies train and retain talent.
SAP NS2 is one of the seven companies that secured priority status to work with FedRAMP"™s Joint Accreditation Board to achieve a provisional authority-to-operate for different cloud technology and service offerings as part of the FedRAMP Connect program.