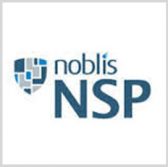 Noblis, Inc., a nonprofit provider of science, technology, and strategy services to government agencies, has been awarded a $3 billion (ceiling across all five ProTech domains) IDIQ award contract from the National Oceanic and Atmospheric Administration (NOAA.)
The contract runs through 2022 with a two- year base period and three one- year options and provides program and technical support to NOAA"™s satellite and observation missions.
Noblis will  support the design, development, testing, and operation of satellite systems, in alignment with National Environment Satellite, Data, and Information Service program initiatives. The company will also apply data management and data analytics expertise to the program, to help NOAA develop predictive information and timely access to global environmental data from satellites.
"Noblis has proudly supported NOAA on critical satellite systems, weather systems, and ocean systems missions continually since 1979," said Mile Corrigan, Noblis Vice President for Transportation and Telecommunications Systems. "We"™re honored to continue supporting NOAA through this award, and look forward to delivering systems engineering, program management, and earth observation and satellite domain expertise to strengthen our nation"™s satellite systems."