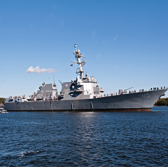 The U.S. Navy commissioned an Arleigh Burke-class guided missile destroyer, built by General Dynamics' Bath Iron Works subsidiary, at a ceremony held Saturday at Naval Air Station North Island in San Diego, California.
USS Rafael Peralta (DDG 115) was constructed to support the Navy's crisis management, peacetime, power projection and sea control missions, the service branch said Friday.
"This commissioning memorializes the life of Sgt. Rafael Peralta and marks the beginning of what will be decades of exceptional service for this ship," said Sean Stackley, acting secretary of the Navy.
Bath Iron Works delivered USS Rafael Peralta to the Navy in February as part of the Arleigh Burke-class restarted development program.
DDG 115 is the service branch's 64th Arleigh Burke-class destroyer and equipped with offensive and defensive weapon systems that will work to simultaneously engage air, surface and subsurface adversaries.