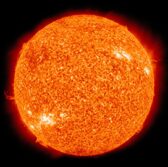 NASA has chosen nine research proposals from government, industry and academic institutions that seek to study the sun and space environment.
The agency said Friday proposals under the Explorers Program include five Heliophysics Small Explorer missions that will receive $1.25 million each to conduct an 11-month concept study as well as two Explorer Missions of Opportunity Small Complete Missions that will get $400,000 each for an 11-month effort.
The proposals involve investigations on terrestrial weather in the near-Earth space environment; magnetic energy; solar wind; and heating and energy released in the solar atmosphere.
Paul Hertz, director of NASA's astrophysics division, said the proposed studies will help uncover mysteries on the Sun's corona, the solar wind and the Earth's atmosphere and magnetosphere.
The five Heliophysics Small Explorer missions are:
Mechanisms of Energetic Mass Ejection "" eXplorer, led by NASA Goddard Space Flight Center's Thomas Moore
Focusing Optics X-ray Solar Imager, led by Goddard's Steven Christe
Multi-Slit Solar Explorer, led by Lockheed Martin's Ted Tarbell
Tandem Reconnection and Cusp Electrodynamics Reconnaissance Satellites, led by Craig Kletzing at the University of Iowa
Polarimeter to Unify the Corona and Heliosphere, led by Craig DeForest at Southwest Research Institute
The chosen Mission of Opportunity SCMs are:
Sun Radio Interferometer Space Experiment, headed by Justin Kasper at the University of Michigan in Ann Arbor
Atmospheric Waves Experiment, led by Michael Taylor at Utah State University Research Foundation
The selected proposals also include a partner mission of opportunity dubbed "U.S. Contributions to the THOR mission" that will support the Turbulence Heating ObserveR program, which is one of four proposed missions currently under consideration by the European Space Agency.
NASA will also fund a mission of opportunity SCM titled "Coronal Spectrographic Imager in the Extreme ultraviolet" that qualifies for scientific implementation but requires further technological development of instrumentation.