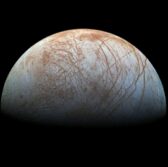 NASA has begun to solicit proposals for a light detection and ranging sensor system that will support the Jet Propulsion Laboratory's lander mission to Jupiter's Europa moon.
The agency said Friday in a FedBizOpps notice the LIDAR sensor should feature altimetry and hazard mapping functions to help the spacecraft perform a safe and accurate landing on Europa.
NASA intends to use a "best value" sourcing method for the competitive acquisition.
The solicitation is part of the program's first phase, which will include systems engineering and trade studies to develop designs and methodologies for a spacecraft that can meet required performance and operate in extreme environments.
Interested vendors can submit proposals to NASA until Aug. 31.