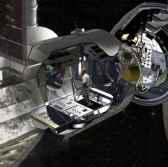 Lockheed Martin has begun to develop a prototype of a deep space habitat for NASA designed to provide navigation support and ensure safety of astronauts during long-duration missions.
Lockheed is one of the six companies that received Phase II contracts in August 2016 to further develop the design concept in the initial phase for the Deep Space Gateway as part of the Next Space Technologies for Exploration Partnerships program, the company said Thursday.
The company will refurbish a container used to deliver cargo to the International Space Station – Donatello Multi-Purpose Logistics Module – in order to build the prototype for the NextSTEP habitat that will use NASA's Orion spacecraft as a command deck during early missions.
"Because the Deep Space Gateway would be uninhabited for several months at a time, it has to be rugged, reliable and have the robotic capabilities to operate autonomously," said Bill Pratt, NextSTEP program manager at Lockheed.
"Essentially it is a robotic spacecraft that is well-suited for humans when Orion is present."
Work under the Phase II contract will occur at NASA's Kennedy Space Center in Florida over an 18-month period and will cover rapid prototyping, risk reduction and concept refinement.
Lockheed will also demonstrate the command-and-control capability between Orion and Deep Space Gateway through the establishment of an avionics integration laboratory near Johnson Space Center in Texas.