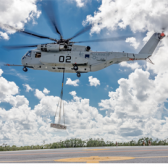 Lockheed Martin has announced the completion of the first cross-country flight of the Sikorsky-built CH-53K King Stallion helicopter from a Florida-based facility to Naval Air Station Patuxent River in Maryland as part of the flight test program.
The CH-53K aircraft took off Friday from Sikorsky"™s facility in Maryland and traveled approximately 810 miles for six hours to Patuxent River with two refueling stops at Marine Corps Air Station New River in North Carolina and Naval Air Station Mayport in Florida, Lockheed said Wednesday.
"This first movement of CH-53K flight testing to our customer's facility denotes that the aircraft have achieved sufficient maturity to begin transitioning the focus of the test program from envelope expansion to system qualification testing," said Michael Torok, vice president of CH-53K programs at Sikorsky.
CH-53K is a heavy-lift helicopter that works to provide maritime- and ground-based logistics support to the U.S. Marine Corps and is designed to lift up to 27,000 pounds of external payloads.
Four engineering development model helicopters have logged at least 450 hours in test flights at Sikorsky"™s facility in Florida.
Lockheed received Milestone C approval in April to facilitate the aircraft's transition to the low-rate initial production phase.