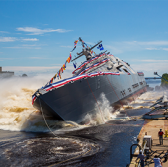 An industry team led by Lockheed Martin has launched the U.S. Navy's 15th Littoral Combat Ship into the Menominee River from the Fincantieri Marinette Marine shipyard in Wisconsin.
Lockheed said Saturday that USS Billings will undergo additional outfitting and testing activities at the Wisconsin-based shipyard ahead of a scheduled delivery to the service branch in 2018.
Fincantieri Marinette Marine, Gibbs & Cox and more than 800 suppliers comprise the Lockheed-led team that constructed LCS 15.
Joe North, vice president of littoral ships and systems at Lockheed, said the new Freedom-variant warship is built to play a key role in the Navy fleet and mission of combatant commanders.
Sharla Tester served as sponsor of USS Billings and broke a champagne bottle across vessel's bow during a christening ceremony held Saturday.
In November 2015, Lockheed conducted a keel-laying ceremony where Tester welded her initials on a steel plate installed on the ship.