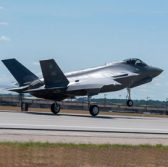 Lockheed Martin has received a $50.8 million contract modification to help the U.S. Navy develop and integrate F-35 verification simulation and "in-a-box" software models.
The obligated amount of $21.6 million at the time of award is from Navy, Air Force and Marine Corps research, development, test and evaluation funds in fiscal 2017, the Defense Department said Wednesday.
Eighty-two percent of the work will occur in Fort Worth, Texas and the rest at Naval Air Station in Maryland and Edwards Air Force Base in California.
Lockheed's aeronautics business is scheduled to finish the task in April 2018.