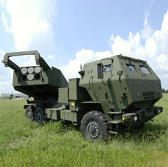 Lockheed Martin has handed over the first mobile rocket launcher system to the Defense Department under a foreign military sales contract awarded in December 2015.
The company produced the launcher and chassis components for the High Mobility Artillery Rocket System at its Camden, Arkansas-based facility, Lockheed said Wednesday.
The U.S. Army tapped Lockheed to build 12 HIMARS launchers for the United Arab Emirates as part of the potential two-year, $143 million FMS contract.
The company will perform deliveries through Dec. 30 under the contract.
HIMARS is designed to fire guided MLRS and tactical missile munitions and is composed of a fire-control platform and a launcher loader module mounted on a five-ton truck with an armored cab for crew protection.
The Army, U.S. Marine Corps and international military agencies deploy HIMARS in support of defense missions.