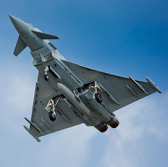 Leonardo has secured a two-year, $51.7 million contract to update the threat detection system of U.K.'s fleet of Typhoon fighter aircraft, Belfast Telegraph reported Thursday.
The Defensive Aids Sub System upgrade effort will help Typhoon jets carry out homeland defense missions as well as air strikes against the Islamic State militant group in Iraq and Syria, the report noted.
The contract will support 65 jobs at Leonardo's site in Luton, Bedfordshire as well as 41 jobs at the Warton, Lancashire facility of BAE Systems, one of Typhoon's manufacturers.
Leonardo's Praetorian DASS works to detect, evaluate and counter air-to-air and surface-to-air threats using electronic support measures, missile warning, on-board electronic countermeasures and towed radar decoys.