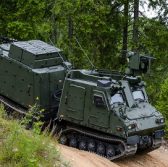 BAE Systems and Goriziane Group SpA have signed a partnership agreement to market and sell the BvS10 armored all-terrain vehicle platform.
BvS10 vehicles are designed to provide full amphibious capacity for littoral operations in remote areas and currently in service with multiple European Union and NATO member countries, BAE said Monday.
Italy-based Goriziane also provides support to BvS10's predecessor model BV206.
"Our new, extended agreement with Goriziane Group further demonstrates BAE Systems"™ commitment to work closely with industries in the countries we do business in to support government programs and local economies," said Tommy Gustafsson-Rask, general manager of BAE's Hagglunds business.
Hagglunds manufactures BvS10 units at a company facility in Ornskoldsvik, Sweden.
The vehicle is designed to carry payload of up to 13,228 pounds and equipped with weapon stations for fire support, control and situational awareness and control.
BvS10 also works to protect crews against ballistics and anti-tank mines.