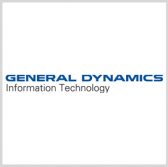 General Dynamics' information technology unit has received a one-year, $14.9 million contract modification to continue to help the U.S. Army manage a mission command network.
GDIT will extend its network operations and maintenance services at an Army facility in South Korea through July 31, 2018, the Defense Department said Monday.
The service branch will obligate $14.8 million in fiscal 2017 operations and maintenance funds at the time of award.