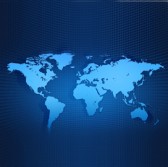 Esri has partnered with an Airbus Group business unit to incorporate the latter's elevation data to Esri's online maps.
Airbus Defence and Space's WorldDEM4Ortho elevation data will be added to Esri's ArcGIS Online Living Atlas of the World to support online end-user applications and app developers who need elevation information, Esri said Monday.
Sean Breyer, Esri program manager for ArcGIS content, said the new data set is intended to standardize the scale of imagery and address distortions from satellite photographs to help boost the accuracy of geographic measurements.
The new elevation layers will work to support analytics such as slope, aspect, rugosity, watershed delineation and visibility studies as well as provide optimized multi-directional hill shading and three-dimensional views for base map cartography.
Airbus' elevation data will be integrated to more than 5,000 Esri maps used by approximately four million users worldwide.