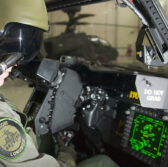 Elbit Systems' EFW subsidiary has secured a five-year, $21 million contract to supply cockpit television video cameras for the U.S. Air Force's F-16 aircraft fleet.
The indefinite-delivery/indefinite-quantity contract was awarded by the Defense Logistics Agency and runs through July 19, 2022, the Defense Department said Friday.
EFW will perform work in Texas and Israel.
The Air Force will finance the procurement of F-16 cameras using its working capital funds from fiscal 2017 through 2022.
Fort Worth, Texas-based EFW manufactures a range of airborne and ground systems as well as general-purpose processors and stores management systems designed to help military customers manage air-to-air and air-to-ground weapons.