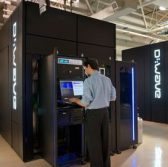 D-Wave Systems has agreed to provide the Energy Department"™s Oak Ridge National Laboratory cloud access to its D-Wave 2000Q quantum computing system in an effort to advance development of hybrid computing applications.
D-Wave will collaborate with Tennessee-based ORNL to leverage the quantum computer to help address DOE"™s environmental, energy, nuclear and other scientific challenges through exploration of exascale applications, the company said Tuesday.
Robert Ewald, president of D-Wave"™s international business, said the company"™s work with ORNL"™s scientists and researchers aims to identify hybrid computing architectures and their potential to answer critical problems.
ORNL is a research lab that houses the Titan supercomputer and employs approximately 5,000 engineers and scientists.