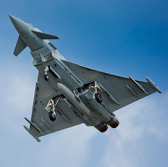 BAE Systems has assisted the U.K.'s air force with testing a new set of weapons, software and avionics updates for the Eurofighter Typhoon combat aircraft.
BAE said Friday the trials involved MBDA's Meteor air-to-air and Storm Shadow air-to-surface missile software systems and were conducted as part of Project Centurion, an initiative that aids the U.K.'s transition from the Tornado GR4 aircraft to Typhoon.
Meteor is designed to provide beyond visual range, multi-shot features against targets such as fast jets, small unmanned aerial vehicles and cruise missiles.
Storm Shadow works to support stand-off, air-to-surface attacks against well-defended infrastructure targets.
The test series dubbed Project Centurion Phase 1 capability package followed trial installation and upgrade work on six Typhoon aircraft, carried out by the British air force's test and evaluation squadron with support from BAE employees.
The trials also involved features exclusive to the U.K.'s Typhoon platforms that are expected to bring new technologies such as human machine interface, BAE noted.
Eurofighter GmbH, Airbus and Leonardo delivered aircraft and support equipment used in the tests.
BAE will continue to optimize the Phase 1 package ahead of the customer firings of Meteor and Storm Shadow missiles, which are slated to enter service in early 2018.
The British air force will integrate the Brimstone air-to-surface missile onto Typhoon aircraft as the next and final stage of Project Centurion.