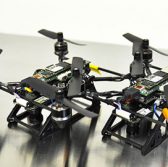 The U.S. Army has called for information on aircraft structural concepts that can be configured to adapt to changing operational needs due to unexpected flight conditions or missions without impact to structural integrity.
A FedBizOpps special notice posted June 29 indicated the Army's aviation unit seeks biomimetic structures technology that supports in-flight adaptation to different configurations in efforts to meet speed, range and payload requirements.
The Adaptive Biomimetic Aircraft Structures program covers biomimetic concepts that facilitate weight efficiency and aerodynamic capability, as well as increased aircraft survivability or operational availability, for both manned and unmanned platforms, the Army said.
Interested parties are required to submit a white paper through July 31.
The Army will evaluate the whitepapers then invite selected offerors with "scientifically meritorious" concepts to submit full proposals for consideration.
The service branch said it anticipates at least three awards worth $1.5 million combined in the second quarter of fiscal year 2018.