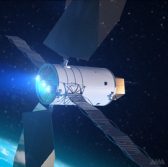 Joe Cassady, executive director for space programs at Aerojet Rocketdyne, has said the use of solar electric propulsion (SEP) systems for in-space transportation can help the U.S. government build a sustainable deep space architecture.
Cassady told the House of Representatives' subcommittee on space that SEP platforms can transfer cargo, habitats and payloads to deep space locations ahead of astronauts' arrival.
"As NASA looks to expand human presence in the solar system, starting with missions to lunar orbit and onto Mars, development of efficient in-space transportation systems is critical," said Cassady.
Cassady added the government should continue to fund SEP development projects to bring humans to Mars in the 2030s.
Aerojet Rocketdyne currently develops three separate high-power electric propulsion systems for NASA including the EXT-C xenon ion engine for planetary missions; Advanced Electric Propulsion System for deep space cargo missions; and the NextSTEP 100kw nested hall thruster for future technology insertion.
The company said these SEP systems are designed to lessen the amount of required propellant for deep space missions by a factor of 10.
SEP systems could also reduce the number of launches required for human missions to Mars by transporting approximately 75 percent of the mass needed, Aerojet Rocketdyne said.