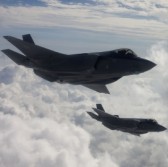 Varley Group has received a $37.5 million contract to collaborate with Lockheed Martin on the design and development of portable ground facilities for U.S. Air Force  personnel deployed overseas to support the F-35 Joint Strike Fighter program.
Varley Group said Thursday it will build ground facilities that can expand thrice the size of a shipping container as well as house the F-35 aircraft's Autonomic Logistics Information System and support crew.
ALIS is designed to help pilots and sustainment professionals manage F-35 operations such as mission planning, maintenance management, fault diagnostics and training management.
The cabins will also house the off-board system for airframes of the F-35A, F/A-18F Super Hornet, E/A-18 Growler and P-8 Poseidon aircraft.
Matt Hederstrom, CEO of Varley's US subsidiary, said the cabins will be built to offer protection for top-secret systems and airframe support personnel.