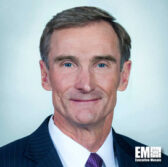 Leidos CEO Roger Krone has said he believes the company could help the Department of Veterans Affairs integrate a commercial electronic health records system with VA's current VistA platform, FCW reported Tuesday.
Krone, an inductee into Executive Mosaic's Wash100 for 2017, told investors June 14 that Leidos has engaged in "top-level conversations" with VA officials to pitch the company's capacity to cut the risk of implementing a new EHR system.
The team of Leidos, Cerner and Accenture won a potential 10-year, $4.3 billion contract from the Defense Department in 2015 to incorporate a commercial EHR platform into the Military Health System.
Earlier this month, Veterans Affairs Secretary David Shulkin unveiled plans to issue a solicitation to Cerner for the procurement and implementation of DoD's EHR platform across the VA enterprise.
"I'm not sure how that will manifest itself in contracts — whether we'll be a sub to Cerner or there will be a separate integration contract or we provide advisory services, but we're starting from a position where we had very little presence in [EHR] at VA, to where they've made a strategic decision to harmonize with DoD where we have the prime contract, and they picked our set of vendors," Krone said.