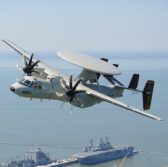 Rockwell Collins' simulation and training solutions business has secured a $34.2 million contract to deliver a training system for the U.S. Navy's E2-D Advanced Hawkeye aircraft.
The Defense Department said Wednesday the company will perform aircraft-to-simulator concurrency updates; implement aircraft change directives/engineering change proposals; and integrate and test software applications under the E-2D Hawkeye Integrated Training Systems III program.
Rockwell Collins will also help the Navy address obsolescence issues as well as provide integrated interoperable devices, technical data, training and logistics support to the branch.
Contract work will occur in Point Mugu, California, through August 2020.
The Naval Air Warfare Center will obligate the full contract amount from the Navy's fiscal 2016 aircraft procurement funds.
The E-2D airborne early warning aircraft is manufactured by Northrop Grumman and designed to help increase warfighters' battlespace awareness through battle management, theater air-and-missile defense and multiple sensor fusion systems.