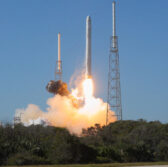 SpaceX plans to build a new facility in Florida to accommodate the refurbishment and storage of the company's reusable rocket boosters, Reuters reported Tuesday.
Documents submitted to authorities outline SpaceX's proposal to establish a 67,222-square-foot hangar near its Cape Canaveral-based launch sites to prepare used Falcon rocket boosters for relaunch.
The rocket manufacturer would construct the hangar at a spacecraft processing facility in Port Canaveral where Astrotech Corp., formerly Spacehab, used to prepare science and equipment modules for flight aboard NASA's space shuttles.
The report said SpaceX awaits approval from the Port Canaveral Board of Commissioners to lease 2.2 acres of land next to the old Spacehab building.