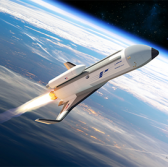 Rick Weiss, a spokesperson for the Defense Advanced Research Projects Agency, has said Cape Canaveral in Florida will serve as the site for flight tests and launch operations for a hypersonic aircraft to be developed under DARPA"™s Experimental Spaceplane program, Spaceflight Now reported Tuesday.
DARPA partnered with Boeing in May to build an unmanned reusable spaceplane – Phantom Express – that will work to field an expendable upper stage to launch a 3,000-pound satellite into low-Earth orbit.
The report said Boeing competed with Masten Space Systems and Northrop Grumman for the potential $146 million contract to develop and test the XS-1 spaceplane with DARPA under a public-private partnership.
Officials told Spaceflight Now the space vehicle is expected to take off and land at Cape Canaveral by 2020.
XS-1 will have a first stage that will return to the launch site for use in future flights and will run on an Aerojet Rocketdyne-built AR-22 engine, the report added.